Add Some Zip to Your Posts With Affiliate Links
Blogging can be fun and satisfying but with the addition of affiliate links, it can also be rewarding. By adding a simple html code or image with a link, you can be on your way to monetizing your blog.
Everyone is a winner!

Affiliate links are a win 3 ways. First of all, you make opportunities and products available to readers, second, companies gain access to your audience and last of all, you get a paid for hosting links. Some companies pay a set fee and some pay a percentage of the purchase amount. Both these are calculated automatically and credited to your main account.
Introducing ShareASale.com Affiliate Program
The affiliate program we will be introducing today is ShareASale.com. This company is one of the largest affiliate representatives. Nearly 4,000 merchants participate in this affiliate program. So if you blog about kitchenware, clothing, webhosting, marketing, collectables, or nearly any service, there is an affiliate link that you can include in your posts.
Affiliate Links are Just the Beginning for an Influencer
As your influence grows, you may also get free items to test and review, might get paid directly for writing about products in addition to getting paid from affiliate links. Be sure to include necessary disclaimers. You can find numerous resources about disclaimers for blogs through Google. The ShareASale opportunity here is completely free to sign up.
If You Can Think of a Product or Service, There is a Link
Most merchants provide a wide range of ways to post links to their selling pages. These can be simple text links, banners, graphics or even specific product pictures. Merchants vested in getting consumers to visit their sales pages and do the most to provide ready make marketing materials for you.
Your Blogging Adventure Starts Here
Once you click the link below, you will be led through a very simple sign up sheet. Approval for the program is very quick and once you access your account you can browse affiliate programs by topic. Many of the Merchants give automatic approval to their programs so you can be generating blog income the same day you're are approved for the ShareASale Affiliate program.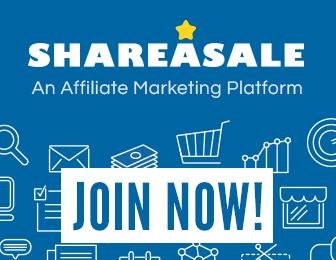 Instead of Working for Your Blog, Make Your Blog Work for You
Even if you are thinking about monetizing your blog, sign up today free so when you blog is ready, you will be able to add your links right way. Click on this url to begin: shareasale.com